You're currently on: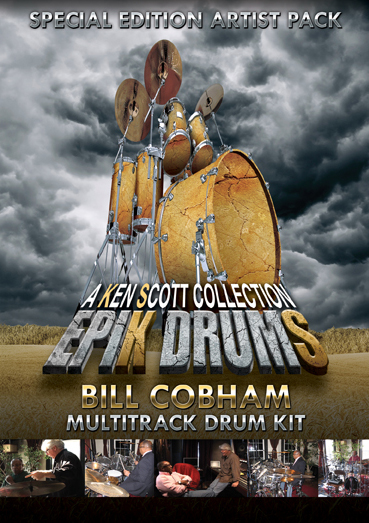 This Special Edition Artist Pack contains only the drumkit (no grooves) samples from master drummer, Bill Cobham, known for his groundbreaking work with Mahavishnu Orchestra.
EpiK DrumS – A Ken Scott Collection is a Sonic Reality virtual instrument/plug-in for drum kits and grooves with the authentic sound and feel of classic rock records. It features 5 of the world's best drummers recorded by legendary producer/engineer Ken Scott.
In EpiK DrumS, Ken recreated the drum sounds of multi-track studio sessions he recorded with David Bowie, Supertramp, Mahavishnu Orchestra, Dixie Dregs, Missing Persons, Elton John and The Beatles. The most authentic classic drums were achieved from using the same rare recording equipment, the same instruments, expert technical assistance from Ross Garfield "The Drum Doctor", advanced sound development by Sonic Reality and collaboration with the original drummers Bill Cobham, Terry Bozzio, Woody Woodmansey, Bob Siebenberg and Rod Morgenstein. All together this makes up one of the most EPIK productions ever for a software drum instrument.
Sample Format
sounds may be used in all samplers supporting the following formats
BFD
Manufacturer
Sonic Reality
You may also be interested in: