You're currently on: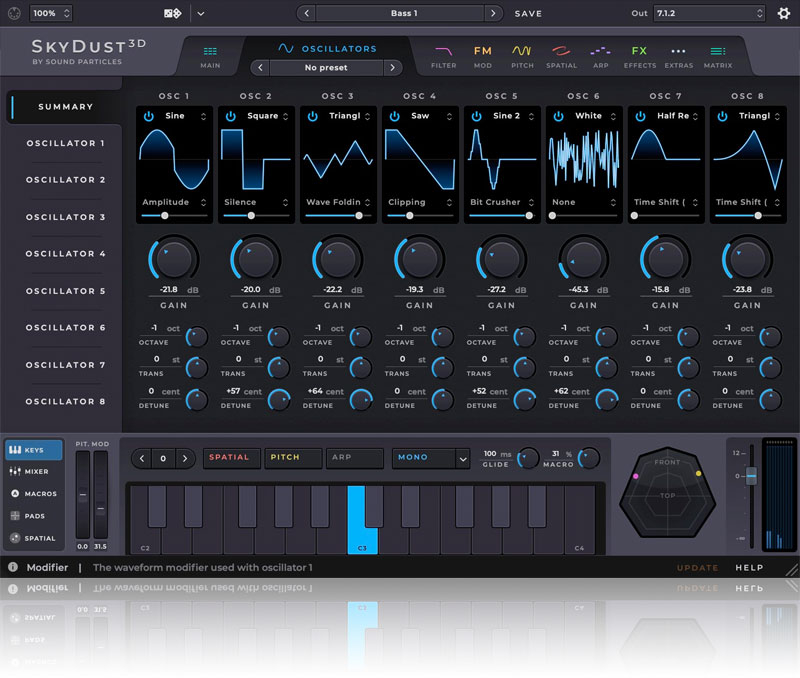 Sound Particles - SkyDust Stereo & Binaural Synthesizer PluginA
SkyDust 3D is the first spatial synthesizer plugin in the world, which allows you to play a note and get instant 3D sound in any immersive format. It's fantastic for stereo and exceptional in 3D.
Presets
Easy to use presets, with the power and flexibility of sub-presets.
Spatial
The fully integrated 3D engine allows you to create unbelievable sounds.
Oscillators
Multiple oscillators and wave modifiers, to obtain fantastic sounds.
Arpeggiator
A modern approach to the Arpeggiator and Sequencer.
Frequency Modulation
Add modern FM synthesis and create amazing sounds.
Filters
Subtractive synthesis, with independent filters, to obtain wonderful results.
Pitch
Use new pitch effects, to create unique sounds.
Effects / Mix
A Mixer and audio effects that helps you to shape the sound
Matrix
The maximum flexibility for the ultimate power - anything is possible.
Extras
Envelope Generators and LFO's are never too many.
Specifications
Other Features
Midi Indicator
Virtual keyboard with pitch-bend, modulation wheel, and sustain pedal indicator
Zoom UI (resizable Window)
40 EG's per voice: 8 gain EG's, 8 pitch EG's, 8 filter EG's, 8 spatial EG's, 8 extra EG's
40 LFO's per voice: 8 gain LFO's, 8 pitch LFO's, 8 filter LFO's, 8 spatial LFO's, 8 extra LFO's
FM modulation (phase modulation) with 8 operators
FM matrix, for custom FM connections
4 FM parameters per operator: ratio (or fixed frequency), detune, modulation gain, feedback
A FM view to help visualize the current FM diagram
Binaural: 5 HRTF datasets, with more than 100 HRTF profiles
Support for SOFA files (personalized HRTFs)
Supports Ambisonics up to 6th order (only SkyDust 3D)
Support multichannel: LRC, LRCS, Quad, 4.0, 5.0, 5.1, 6.1, 7.0, 7.1, 9.0, 9.1, 5.0.2, 5.1.2, 5.0.4, 5.1.4, 7.0.2, 7.1.2, 7.1.4, 7.0.6, 7.1.6, 9.1.2, 9.1.4, 9.1.6, 9.0.8, 9.1.8, 11.1.8, Auro 11.1, Auro 13.1, IMAX 12.0, 22.2
Support for stereo: stereo, stereo (VBAP), stereo (MS), stereo (...)
Support for binaural (3D sound over Headphones) - 2 XY pads, with custom parameters per axis
Snap feature, with snap time, on XY pads
FX: Delay, Reverb, Bit-Crusher, Distortion, EQ (3 bands), Parametric EQ (1 band)
FX presets and sub-presets
Dry/Wet control
Meters in-between FX slots
LFO's with depth, rate, phase, delay
Ability to sync LFO's with host (tempo)
Global LFO's (all LFO's in sync with each others)
11 Movement modifiers: Random rotation, Oscillate, Floating, Random Target, Rotation, Moving Up, Moving To Position, Moving Left, Moving Front, Moving Rear, Moving Right
EG with multiple types: AR, ADR, ADSR, AHDSR, DAHDSR
Global octave, transpose, detune
4 macros, with support for multiple parameters, and custom curves
Multiple 3D views: 360 view, rear view, top view, spherical view, SkyDust view
Main volume and main meters
Mixer panel, with independent control of oscillators (volume, mute, solo, meter), 4 FX dry-wet and main volume (and mute)
Optional monophonic behavior, with "Mono" or "Legato" mode, and variable glide time
Curve editor, with multiple point editor and curve adjustment, or using knobs (depth, min, mid, max)
Ability to filter matrix entries by source or destination
Matrix sub-presets
8 extra EG's and 8 LFO's, able to control multiple parameters and associated curve editor
Extra EG's/LFO's sub-preset
Arpeggiator with 7 patterns, and ability to add additional octaves (from -2 to + 2)
Ability to sync Arpeggiator with host (tempo)
Modern Sequencer with up to 128 steps and multiple parameters
Keyboard editor per sequencer step, for easy note entry
Polyphonic sequencer (support of multiple notes per sequencer step)
3D panning per sequencer step
Ability to add any parameter to sequencer, with step values
Intelligent sequencer, with ability to adapt to major/minor sequences, by forcing a scale
Initial 3D position by oscillator
Variable Oscillator divergence, to obtain slightly random positions on each note
Global spatial settings or independent spatial settings by oscillator
3D position Envelope Generator, to define multiple positions thru time
3D LFO, with independent depth for azimuth and elevation.
Dedicated pitch EG and LFO per oscillator, for maximum flexibility
Random pitch values for interesting pitch effects, such as pitch convergence/divergence
Keyboard and MIDI Velocity mapping on filters
Random presets, with the ability to lock certain sub-modules
MIDI Learn control or manual assignment to attach a control to a parameter
Ability to filter presets by bank (factory/user), artist, and type (pads, ...)
Tooltips (on bottom bar) activated by mouse over parameters
System Requirements
OS

Windows 10 or higher /

macOS 10.13 or higher

Format

AAX Native, AUv2 and VST3

CPU

4-core or higher

RAM

8 GB or higher

Disk Space

1.3 GB
You may also be interested in: