You're currently on: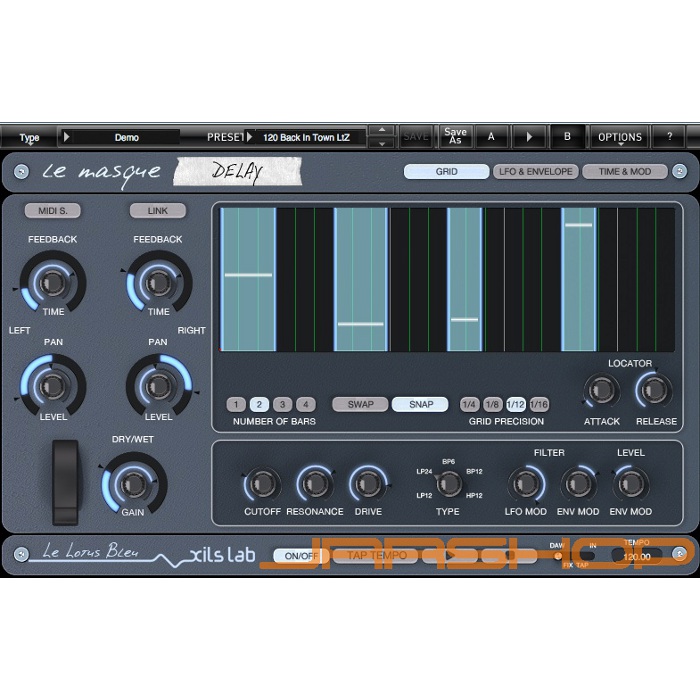 This product will cause you to create new and unusual effects. We know you will have fun and be inspired when operating
Le Masque: Delay is a revolutionary Time Line driven Delay Effect which can be used to perform unique and totally new Delay based effects in a fast and intuitive way.
To accomplish this task, Le Masque: Delay inherits the renowned XILS-lab filters and all the experience accumulated from the making of Virtual Analog synthesizers and audio effects. But Le Masque: Delay can also perform like a regular Delay.
Main Features:
True stereo path with independent Right and Left Delays
Midi Sync and Stereo Link Delay Modes
Sync grid zone with up to 8 custom Masks
All Masks have independent length and level
One Multimode Filter (With Drive, Self Oscillating, 0-delay Feedback Design)
Two independent envelopes (Loopable ADSR and AR) with 3 trigger modes
One Syncable Multiwaveform LFO with 3 reset options
Snap to Grid function to quantize Mask Locators on musical values
Swap Masked/Unmasked function (Real Time)
4 Clock Modes (DAW, In, Tap Tempo, Fixed)
Modulation Matrix for real time control of parameters
Real time tempo analysis function for Live playing
All parameters are MIDI controllable
You may also be interested in: