You're currently on: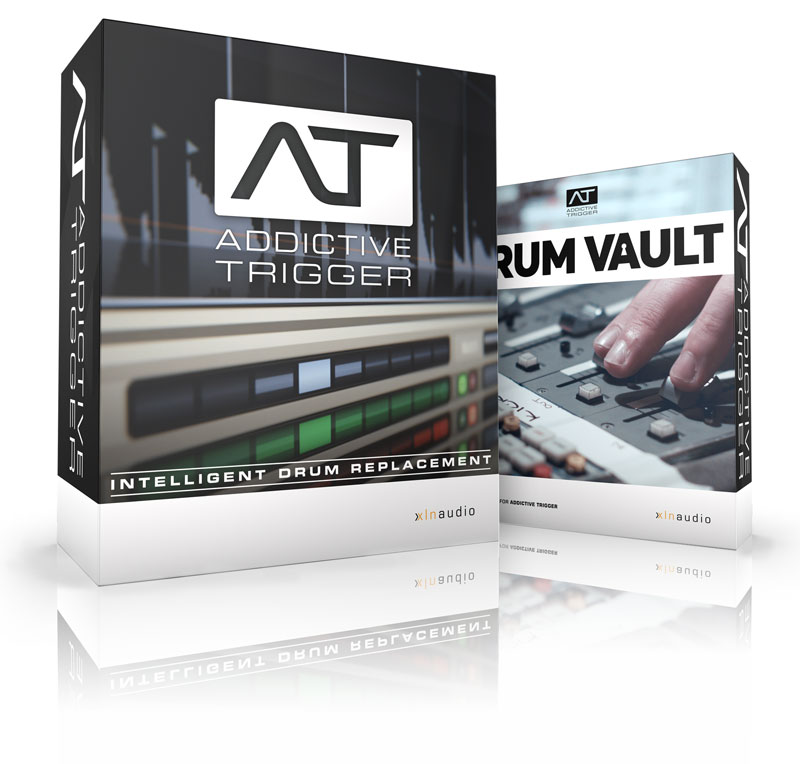 Addictive Trigger is the world's first intelligent drum replacer. How is it intelligent? To start, we created the powerful Audio Fingerprint detection algorithm. This system uses FFT analysis to accurately identify drum hits even if there is a lot of mic bleed or background noise in the source material.
Another intelligent feature is SuperStart. SuperStart eliminates tedious fine-­‐ tuning by listening to your source material and automatically providing suitable detection settings. This means you can have accurate drum detection on your tracks in seconds and can spend your time on creative things like dialing in perfect drum sounds.
World-­‐class sounds right out of the box
In addition to the intelligent detection and workflow features, Addictive Trigger ships with tons of fantastic and easily-­‐tweakable presets that are selected from our award winning Addictive Drums library and tailored specifically for drum replacement. These sounds are recorded at world-­‐class, impossible-­‐to-­‐ book studios like Fairfax Recording (formerly known as Sound City) and United Recording (formerly Ocean Way Hollywood) and utilize some of the finest gear and most experienced ears in the business.
A complete triggering solution
Addictive Trigger works on its own and does not require any additional drum software to provide world-­‐class results. Accurate detection and outstanding sounds are included in the package.
Plays nice with other drum software
If you own our flagship Addictive Drums 2 software, you're in luck! You can use all of your favorite presets and ADpak expansion sounds immediately in Addictive Trigger.
Addictive Trigger also supports most popular 3rd party drum instruments. You can easily drag-­‐and-­‐drop properly formatted MIDI data out of Addictive Trigger to your favorite instrument and begin working right away.
Requirements:
System:
PC: Windows 7, 8, 10 (32/64 bit)
Mac: OS X 10.7, 10.8, 10.9, 10.10 (32/64 bit)
2 GB RAM. 4GB or more recommended.
High-­‐speed Internet connection (during installation only)
Supported Formats:
VST, AU, AAX (32/64 bit)
Supported Hosts:
While XLN Audio actively tests on the host applications listed below, this product should run on any host supporting VST, AU, or AAX plugins.
Pro Tools 10, 11, 12
Cubase 6, 7, Pro 8
Live 8, 9
SONAR X2 or later
LogicPro 8, 9, X
Reaper
Drum Vault TrigPak
Outstanding drum sounds
Carefully selected from our library of recordings
Two previously unreleased kit pieces
The Drum Vault TrigPak expands Addictive Trigger with fantastic new sounds that you're sure to love. It includes a carefully selected set of kit pieces from the vast XLN Audio library and unlocks the true potential of your mix.
Drum Vault is an essential expansion for Addictive Trigger and features18 carefully selected kit pieces from our vast library of recordings. These kit pieces (including two previously unreleased gems) come with custom crafted presets that add punch and extra dimension to your drum sounds. They will help unlock the true potential of your mix.
Featuring versatile kicks, punchy snares and two complete tom kits with custom crafted presets, Drum Vault will add the punch and extra dimension that your mixes crave. With two additional linkable extras (body percussion and tambourine), you'll have an easy time layering your drums for unmatched sonic impact.
Snares:
14x3.5" Gretsch Modded Tom
14x5" Ludwig Acrolite 1968
14x5.5" Yamaha Steve Gadd Signature
14x6.5" Pork Pie Bell Brass
Kicks:
18x14" Premier Gen-X
22x16" Yamaha Absolute Hybrid
22x18" Tama Starclassic
24x18" Pork Pie USA Custom
Toms:
10x8" Pork Pie USA Custom
13x10" Pork Pie USA Custom
16x14" Pork Pie USA Custom
18x16" Pork Pie USA Custom
10x7.5" Yamaha Absolute Hybrid Tom
12x8" Yamaha Absolute Hybrid Tom
14x13" Yamaha Absolute Hybrid Tom
16x15" Yamaha Absolute Hybrid Tom
Extras:
Meinl Single Brass Tambourine
Body Percussion
You may also be interested in: