You're currently on: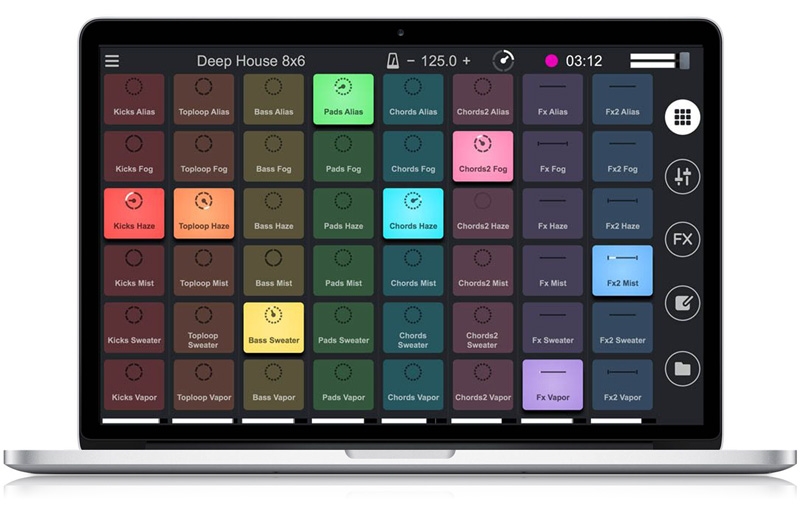 Loop sequences , make music
"A very intuitive way to make professional-sounding tracks."
"Really a fun and powerful perfomance tool."
"Remixlive bridges the gap between DJing &music production."
"Remixlive continues to develop into a serious piece of software that offers genuine value to the scene."
Compose with a step-sequencer
This new feature allows us to offer everyone the possibility to create their own patterns, making more complex music and stepping up their game by evolving their style.
Play loops and sequences in sync
Everything you need, from launching fully-synced loops to adding FX, packed in an all-in-one remix app. Create rich and layered tracks all in Remixlive using the multiple playmode.
Remixlive integrates seamless time-stretching that makes it possible to bring together samples from many different sources, including 150+ pro sample packs available in the app.
Finger drum in real time using one-shot samples, wheter you play on a mobile device or a computer with/without a controller. Record sounds and build patterns thanks to a loop based sequencer with overdub.
The finger drumming grid allows for spotaneous creation of drum patterns and melodies, all backed by a powerful engine ensuring low latency on most devices.
Exclusively on iOS 11, Remixlive harnesses one of the features of Apple's new system with extensive drag and drop capabilities on iPad.
Drag & drop samples, sample packs and export recordings quicker than ever. You can also create a loop in Cross DJ and drag it onto Remixlive's grid to remix it with more samples.
Tweak your sound with live-controllable effects such as Delay, Filter, Flanger, Reverb and more. Create build-ups and drops with the six real-time beat repeat pads from 1/16th to 2 bars.
The large FX control pad allows for both smooth and precise X/Y axis control of effects. It can also be locked in place for easier transitions and applied later to either single channels or the master output.
The ultra useful Waveform Zoom view lets you touch the sound and accurately edit individual samples' length, BPM and ADSR. Once edited, sounds imported from the library or recorded with the microphone become the seed of new compositions.
Thanks to this powerful built-in sampler, Remixlive integrates a core feature of music production software.
Import easily and add them to your current sample pack. Let the built-in analysis find the sample's BPM or add a custom BPM value.
Import from iTunes, AudioShare, AudioCopy, Files or from all the main cloud drive services also available on iOS.
Upload your recordings to SoundCloud or share them easily to your friends and family via email or any number of messaging apps.
Remixlive for iOS also takes advantage of the extensive sharing capabilities of the iOS platform, such as Open in, Files or AudioShare.
All you need to make music
Bringing together synced loops, snappy and responsive finger drumming, extensive live recording capabilities and more. Remixlive opens up new creative possibilities to make music in the spur-of-the-moment.
Play Remixlive like an instrument to create unique beats and melodies. Record patterns with an intuitive loop-based sequencer.
Finger drumming mode
• Brand new "Drums" grid with percussion and note samples.
• Pattern recording — with overdub & metronome.
• Link (grouped triggering) & Shock (exclusive triggering) features.
• Route each pad to a mixer line — with its associated color.
* only available on iOS and Android versions.
Pro-sounding samples
• Grid: 24 pads on mobile, 48 on phablets & tablets.
• 96 samples per pack: 48 loops/FX and 48 drum/note samples
• 40+ sample packs, including artist packs by Carl Cox & DJ Vadim, among others.
• Colored pads: 16 colors to customize your grid.
Import/export
• Import your own samples
• Export & import packs between devices.
• Record your performance in high-quality format.
• Share your recordings via email & SoundCloud, or open them in other apps.
A real-time remix app
• Live BPM control & Tap Tempo.
• Play in sync with any Ableton Link-compatible app.
• 6 live-controllable FX (Delay, Filter, Flanger, Reverb,etc.).
• 6 Beat repeat pads from 1/16th to 2 bars.COMPLETE REMIX TOOLBOX
• Full-fledged mixer: EQs, levels, filters & Mute/Solo on each channel.
• Edit each sample's Play mode, Quantize, Gain, Pan & Loop Division.
• Advanced sample editor: ADSR envelope, Transpose & Reverse.
• Record any sound or voice through the mic.